The human and social sciences and agriculture-society interactions
This disciplinary field covers sociology, anthropology, geography, economics, law, political science, nutrition science, and information science.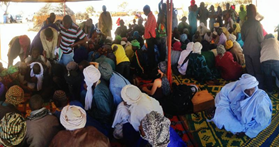 It aims to understand actors' strategies in the field of agriculture and food faced with the challenges of globalisation. It encompasses understanding of know-how, traditions and innovations, and the processes accompanying the introduction, transfer and dissemination of innovations, whether technological, organisational or governance; analysis of changes in access to and use of land and resources and the governance of territories; studies of markets, sectors and value chains and the distribution of value-added; and analysis of public policies and methods for measuring their impact on actors at different levels. It focuses in particular on the way in which dynamic agriculture-society interactions shape landscapes, rearrange territories, and modify the relationships between actors. Participatory research and the co-construction of knowledge and solutions are some of the main outcomes expected from this field.